No, not all bananas are yellow. The green ones were there and the surprising red bananas have arrived in our greengrocers in recent months. Now they also come from the Canary Islands, our banana corner.
The red banana attracts attention for that bright purple-red color, between purple and brown. Its pulp has a smooth but firm consistency with a yellow color with pinkish undertones. The good ones have a slight raspberry flavor.
Red is a more versatile banana than the classic yellow we usually buy. It can be eaten raw, of course, but it can also be fried or roasted. Its optimal moment of consumption is when your skin has a red tone close to brown.
It is a very healthy fruit and for something the WHO recommends its consumption. It is rich in potassium, magnesium and vitamin C. Red banana is also a good antioxidant.
The optimal time of consumption is when the skin is between red and brown

Taffeta, purple banana or red banana

In reality, the red banana is not a newcomer, not even to the Canary Islands. He landed in the archipelago in 1982, coming from Martinique (French Antilles), at the behest of the Canarian Institute for Agricultural Research (ICIA).
Like all bananas and bananas, red also comes from Southeast Asia (between India and Malaysia) and is known as the Malaysian banana. In Latin America, where it is abundant, it is known as taffeta, purple banana, red banana or red banana.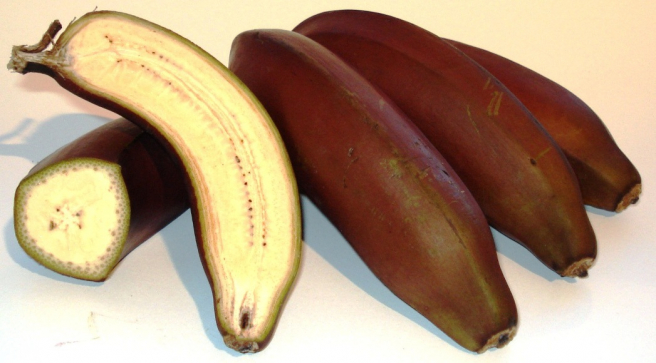 All herbaceous plants of the genus Musa (banana, plantain, banana, banana, ripe, banana or gualele) come from Southeast Asia. They arrived in the Canary Islands in the 15th century, coming from Equatorial Guinea with the help of Portuguese expeditionaries, and from there they sailed to America in 1516.
Bananas of the Cavendish type are mainly grown in the archipelago. Some of the most widely planted are Gran Enana, Zelig and Gruesa Palmera, the latter a Canarian selection of Cavendish Enano. In Spain, bananas are also grown in the southern Mediterranean coast (Alicante, Almería, Granada and Malaga).