Every house has its own layout. There are those who prefer a comfortable and modern layout, while there are others who prefer a traditional layout. However, no matter what the layout is, the home needs to be decorated with numerous ornamental items and accessories. Everyone will find something to suit their tastes. You can enhance the appearance of your living space greatly by placing embellishing wares such as decorative plates, decorative bowls, decorative vases, and sculptures throughout.
Your home will look more beautiful with handmade decorative bowls and plates, regardless of your budget. Handmade embellishing items raise a lot of questions. As a result of this article, CyrusCrafts Decorative Handicrafts has answered all of these questions.
Is there a characteristic that Iranian handmade embellishing items should possess? Which models best suit the layout of your home? In terms of decorative plates and dishes, what are the newest trends? In the process of arranging household items and placing the main pieces in place, all these questions begin to arise. Start by defining garnishing items and accessories…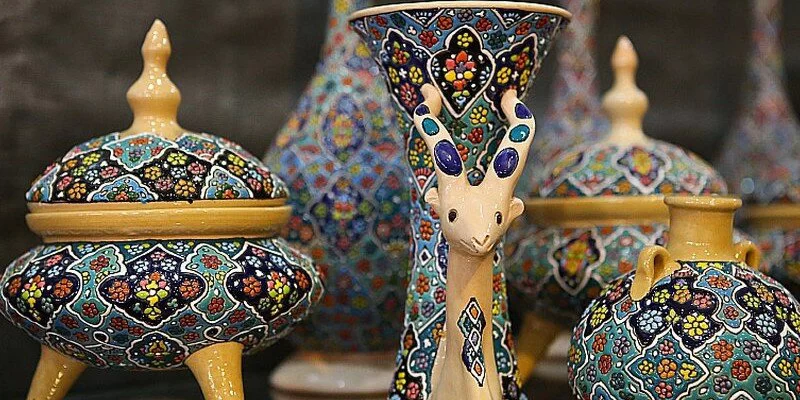 Classic Decorative Handicrafts
In this context, ornamental wares refer to small household items that are both functional and beautiful. This includes Iranian decorative bowls, dishes, and vases. Decorative crafts usually reflect the tastes of home owners. It is easy to create a pleasant and calming atmosphere at home with the help of these items.
While hand-made ornamental wares have evolved over time, certain basic principles remain the same. A touch of beauty and charm is added to homes with several key pillars in decorative handicrafts. The appearance and material of handmade decorative bowls and plates vary widely.
Materials of Handmade home and office decorative items
Handmade Ceramic Crafts
According to formal definitions, ceramics are made from clay and heat-hardened. There is usually a colorful finish and geometric design on Persian handmade ceramic or even other decorative art crafts. Add a splash of color or bold accent to your home with ornamental ceramic pieces.
Handmade Metal Crafts
This type of item consists of metal plates and wires, which can last for a really long time. Metal wares made from copper and brass is well known in Iran. These hand crafted items are absolutely astonishing and not as easy to find.
Wooden handiCrafts
Handmade wooden items using carving and inlay techniques will be discussed. Embellishing items like these take skilled artisans a considerable amount of time to make. It is impossible not to be blown away by these unique crafts.
Crystal handiCrafts
The term "crystal glass" refers to items that contain no calcium while having lead replacing it.
There are three general shape categories for decorative crystal wares: decorative plates, decorative bowls, and decorative vases. A large part of CyrusCrafts collection consists of handmade plates, bowls, and vases that are unique in their own right. Don't forget to check them out.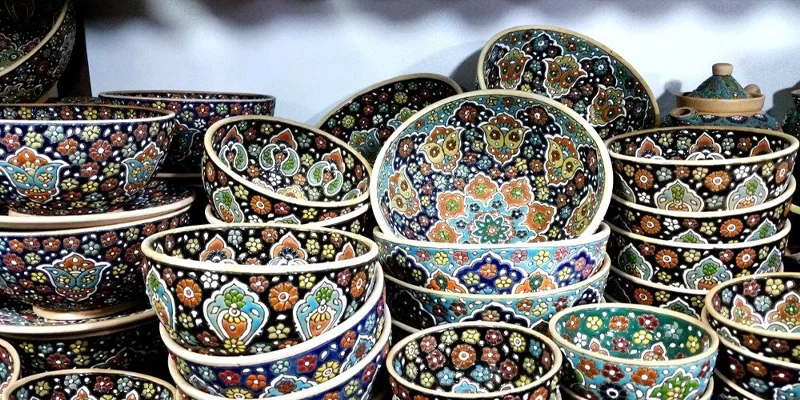 Ornamental Handicrafts Placement Tips
Decorative bowls, plates, or decorative vases can add a touch of class to an interior. Here are some interior tips to keep in mind. Your first step should be to decide how you are going to incorporate the plate into your decor. By narrowing down your search, you'll know what kind of bowls, plates, and vases to look for and where they should go. The item can serve as an accent piece if it complements the surrounding decor. For a bowl or plate to be considered an accent piece, it should stand out without being too obvious.
Handmade meenakari plates and bowls for example, can be paired with bright blue throw pillows or other accent pieces in the room. If you want to use some bright golden tones to make the space pop, go for a metal plate that fits the industrial style. You can display CyrusCrafts decorative bowls and plates on end tables and shelves, as they draw enough attention.
Conversely, decorative vases add a touch of elegance to any decor and are a great addition to any table or countertop. It can be difficult to distinguish them from the background when they are positioned off to the side. Depending on how large the vase is, it can also be placed on the ground.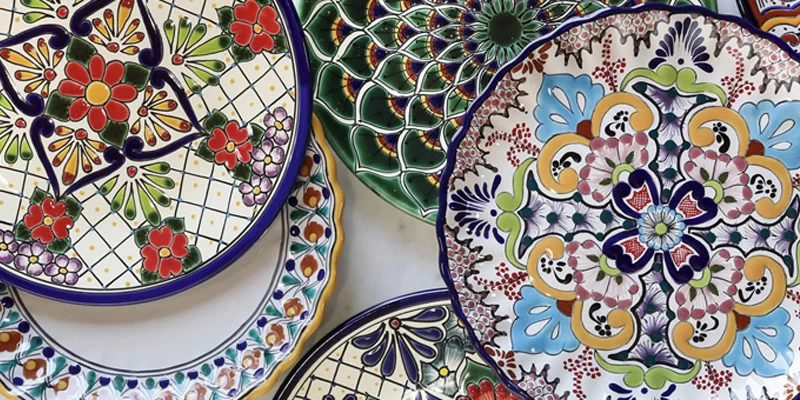 A Brief Introduction to Persian Rugs
Iranian carpet weaving has been around since ancient times and is considered one of the oldest art forms. The world's oldest carpet is considered to be an Iranian work from the Achaemenid era. It is called The Pazyryk Carpet. The point is that this art is becoming more and more popular among nations and cultures, in addition to its authenticity and antiquity. Durability of this art is largely determined by the beauty of its design and role. Iranian artists have turned the Persian rug and carpet into a unique work by observing the aesthetic points in the text and border of the carpet.
Even though carpet is not necessarily a embellishing item, there are rugs and carpets that people usually consider using them as ornamental items, due to their price, sensitiveness and design, such as wall rugs or framed rugs, and hanging rugs.
Hand-woven carpets have always been a part of Iranian homes and have always added a sense of elegance and warmth to their homes. There are different types of Iranian carpets, knowing them helps to make the right choice when buying. This article tries to familiarize you with this authentic Iranian art by introducing the best Persian Rug and Carpet , types of carpets and their patterns.
CyrusCrafts' Decorative Plates, vases & Bowls
With a handmade marketplace offering worldwide shipping, by category or by item. You can search for a specific handmade item or snack as easy as pie. As part of the Damatajhiz specialized group under Mr. Majid Zavvarian's directions, CyrusCrafts has developed its digital marketing in addition to its international activity. Buying Iranian handmade products from CyrusCrafts Online Store is easy. Since CyrusCrafts Store offers Iranian handicrafts in six sections, 60 categories, and thousands of products, all in one place.
As a company that specializes in handcrafted products, CyrusCrafts offers an easy and quick online shopping experience for Iranian handcrafted products, particularly in the US and Canada, based on years of experience in the field of marketing.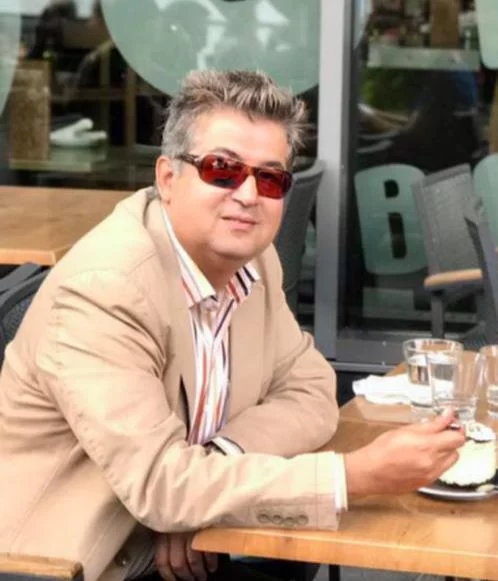 The Price of Handcrafted Decorative Items
It is possible to find handmade items at an affordable price, but most of them do not come cheap. These products cannot be found at a discount for one very simple reason, and that is because they are made by hand. It takes so much time to make them. During the time a craftsman finishes one product, a machine can produce hundreds.
In any country or region, handicrafts play a very important role in expressing the culture and traditions. Handicrafts are a valuable medium for preserving traditional art, heritage and culture, traditional skills and talents which are associated with people's lifestyle and history.